Now that regional travel has been allowed for NSW residents, we're encouraging people to visit some of the beautiful towns along the south coast. In this blog post, we'll talk about Merimbula and all it has to offer.
Where is Merimbula?
Merimbula is located on the Sapphire Coast, about 5 hours' drive south of Wollongong. You can fly into Merimbula, or drive down, enjoying the scenic views along the way.
Local attractions
Mitchies Jetty – has a great little coffee machine and you can walk along the waterfront and dip your feet in the lake if you're keen!

Merimbula Main Beach – a golden shore and surf beach that stretches for 5km. When the wind picks up, it's THE place to watch windsurfing & kitesurfing or go out yourself.

Whale watching - Winter and early Spring time is when whales stop and congregate off the coast to feed their young before continuing their journey south to Antarctica. Take the time and book a tour to see them pass through!

Merimbula Golf Course – for keen golfers who want to work on their swing. It's also a great spot to watch kangaroos that come to visit. Take the kids to the club house where their vast floor to ceiling windows offer a great vantage point to play Count the Kangaroos. Oh you can play golf there too of course. Why not get a group together and make a golf trip of it?

Merimbula Lake – a pristine waterway that lives up to being a part of the Sapphire Coast. It's child friendly and its glassy surface is sensational for stand up paddle boarders.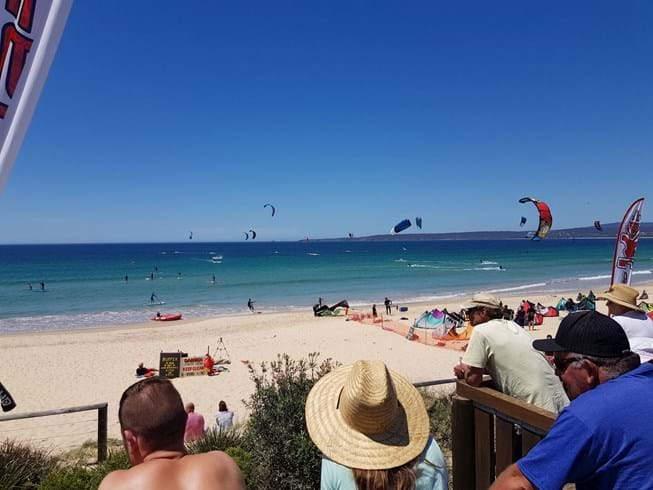 2017 Merimbula Classic
Best places to eat in Merimbula
In no particular order, we've put together some of the local businesses offering great food and dining, which are definitely worth a visit.
Fishpen Takeaway - for the best fish & chips by the beach, located on Marine Parade, Merimbula

Merimbula Fresh Seafoods - is the place to go if you want to buy fresh seafood and cook it yourself or make it easy on yourself and buy a pile of fresh prawns.

Seabreeze Diner - has great fish and chips and the best chicken schnitzel burgers

Waterfront Café – a fantastic place to sit on the boardwalk and relax as you take in the serenity of the lake

Nourish Café – located on the boardwalk and is a great place for healthy snacks and coffee

The Wharf Restaurant & Aquarium – enjoy the serenity of sea creatures and grab a bite to eat as well; an interesting place for lunch, dinner or just coffee & cake.
We hope this guide is helpful when deciding what to see and do during your trip to and around Merimbula. Be sure to check out the other NSW South Coast towns featured in our blog. Support the local business and community by visiting these coastal towns this year. Want to get in touch? Visit our Merimbula branch page for contact details.
The content in this article has been prepared by Horizon Bank for general information only and it is not intended to be professional advice. It does not take into account your objectives, financial situation or needs. You should seek your own legal, accounting, financial or other professional advice where appropriate, and consider the relevant Product Disclosure Statement and Terms and Conditions before deciding whether to acquire any products or services offered by Horizon Bank and/or its affiliated partners. We do not recommend any third party products or services referred to in this article unless otherwise stated and we are not liable in relation to them. Any links to third party websites are for your information and we do not endorse any content on those sites. Horizon Credit Union Ltd ABN 66 087 650 173 AFSL and Australian Credit Licence Number 240573 trading as Horizon Bank.
View Blog By Category
Tags