Are you ready to embark on a journey to one of the most captivating destinations along the south coast? Merimbula, nestled on the Sapphire Coast, is calling your name. In this updated guide, we will take you on a tour of what this charming town has to offer.
Where is Merimbula?
Merimbula is situated on the enchanting Sapphire Coast, approximately a 5-hour drive south of Wollongong. Alternatively, you can opt for a scenic flight into Merimbula, soaking in breathtaking aerial views as you approach this coastal paradise.
Local Attractions
Mitchies Jetty: A picturesque spot where you can enjoy a cup of coffee while strolling along the waterfront. For the more adventurous, dip your feet in the serene waters of the lake or go for a SUP.
Merimbula Main Beach: Boasting a 5-kilometer stretch of golden shoreline, this beach is a haven for surf enthusiasts. When the wind picks up, it becomes the ultimate location to witness thrilling windsurfing and kitesurfing or to try it out for yourself.
Whale Watching: Winter and early spring is when whales gather off the coast, nurturing their young before continuing their journey south to Antarctica. Don't miss the opportunity to witness this natural wonder; book a whale-watching tour to see these magnificent creatures pass by.
Merimbula Golf Course: Golfers can work on their swing at this scenic course. It's also a prime spot to observe kangaroos that often make appearances.
Merimbula Lake: This pristine waterway perfectly embodies the beauty of the Sapphire Coast. Child-friendly and featuring a glassy surface, it's an ideal spot for stand-up paddleboarding.
Merimbula Classic: This annual event draws water sports enthusiasts from all over, featuring thrilling competitions and showcasing the area's natural beauty.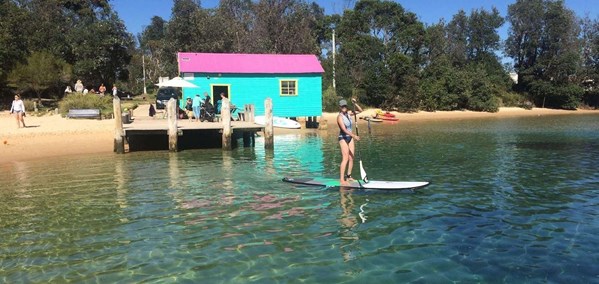 Mitchies Jetty
Best Places to Eat in Merimbula
Here are some of the local dining establishments that are sure to tantalize your taste buds:
Fishpen Takeaway: Located on Marine Parade, Merimbula, it's the go-to place for the best fish and chips with a beachfront view.
Merimbula Fresh Seafoods: Ideal for seafood aficionados looking to cook their own meals or enjoy a delicious pile of fresh prawns.
Merimbula Fish and Chips: Grab a quick meal to take away and enjoy it at Main Beach, which offers stunning picnic spots and beautiful lake views.
Seabreeze Diner: Renowned for its delectable fish and chips and mouthwatering chicken schnitzel burgers.
Waterfront Café: Situated on the boardwalk, it's the perfect spot to relax and soak in the tranquility of the lake while savoring a fantastic meal.
Market Street Coffee: Delicious coffees and treats can be found here.
Superette: Our next door neighbours! A trendy wine bar with a great selection.
Merimbula Ice Creamery: Treat yourself to a sweet delight and indulge in delectable ice cream.
Nourish Wholefoods and Café: For healthy snacks and quality coffee, you can't go wrong with the vegetarian-friendly Nourish Café, conveniently located on the boardwalk.
The Wharf Restaurant & Aquarium: Dive into a unique dining experience surrounded by sea creatures. Enjoy a relaxing meal, whether it's for lunch, dinner, or a delightful coffee and cake break.
Dulcie's Cottage: An excellent addition to Merimbula's dining scene and occasionally featuring live music, Dulcie's offers a charming experience for those looking for a delicious cocktail or something special in a picturesque setting.
Shopping
Merimbula offers a delightful shopping experience, with numerous boutique stores to explore. Some of our favorites include The Essence of Merimbula, Boardwalk Fashion, Wanderlust and The Muse, Lorikeet Lane, Raging Bull Surf and Koko Maia. Take a souvenir of your time home with you!
We hope this updated guide helps you plan your visit to Merimbula and immerse yourself in all the beauty and experiences this coastal town has to offer. By supporting local businesses and the community, you can make your trip to Merimbula a memorable one. To get in touch or find additional information, visit our Merimbula branch page for contact details.
The content in this article has been prepared by Horizon Bank for general information only and it is not intended to be professional advice. It is relevant at time of printing and information could change without notice.
View Blog By Category
Tags