Wollongong – the perfect mix of city and beach getaway all in one.
Fancy a spending spree? On your trip to Wollongong visit Crown Street mall; this is where you'll find over 100 specialty shops and major retailers.
The Illawarra Performing Arts Centre (IPAC) is the focal point of Wollongong's Arts Precinct. The IPAC hosts live theatre performances and its grassy forecourt is also a great place to catch live acts and relax with coffee from The Social or nearby Utopia. The Art Gallery is situated opposite the IPAC. It features two storeys of art and installations. A cultural must-see.
From the Art Gallery take a walk down Burelli Street towards the beach. You'll pass the impressive WIN Entertainment Centre. Home of the Illawarra Hawks basketball team and where Australian and International acts play.
Right next door to the WEC is WIN stadium. Half home of the St. George Illawarra Dragons rugby league football team. The Illawarra Steelers football club is close by for refreshments or you might like to check out the brewery on the surf side of the WEC.
Continue your stroll towards Wollongong city beach. If you walk south you'll make your way to one of the best located golf courses on the South Coast. Its impressive 19th hole is a great place to meet friends for a meal, drink and a golf story. You'll enjoy beautiful views of the course, the ocean and Port Kembla.
If you head north you'll make your way along the path up to the lighthouse for more spectacular harbour and ocean views. You'll see old cannons that once upon time were installed to protect the coast.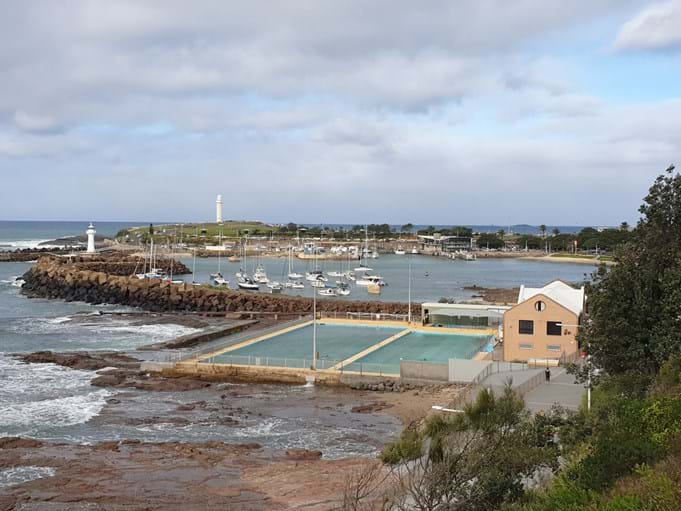 Wollongong Harbour features Belmore Basin in the centre. It's a protected bay and safe haven for yachts and commercial fishing boats. It has a children's playground and lots of places to eat and drink.
The walk we're taking you is called the Blue Mile and along the way there are points of interest signs. It continues past an ocean rockpool and an ocean continental pool. You'll make your way to beautiful North Wollongong beach. The Novotel on Cliff Road overlooks this beach. While you're there keep going north and you may be lucky enough to see skydivers land in Stewart Park. Are you game to do the jump? The view would be worth it!
At the end of Stewart Park you'll discover the iconic Lagoon Restaurant. There are lots of other places in Wollongong to enjoy. The Science Centre is a fun interactive way for kids and adults to learn about science. It's situated in Wollongong University's Innovation Campus not far from Stewart Park.
Nature lovers will enjoy a leisurely walk through the Botanic Gardens. Entry is free and includes a playground for the kids to enjoy.
We hope this guide is helpful when deciding what to see and do during your trip to and around Wollongong. Be sure to check out the other NSW South Coast towns featured in our blog. Support the local business and community by visiting these coastal towns this year.
The content in this article has been prepared by Horizon Bank for general information only and it is not intended to be professional advice. It does not take into account your objectives, financial situation or needs. You should seek your own legal, accounting, financial or other professional advice where appropriate, and consider the relevant Product Disclosure Statement and Terms and Conditions before deciding whether to acquire any products or services offered by Horizon Bank and/or its affiliated partners. We do not recommend any third party products or services referred to in this article unless otherwise stated and we are not liable in relation to them. Any links to third party websites are for your information and we do not endorse any content on those sites. Horizon Credit Union Ltd ABN 66 087 650 173 AFSL and Australian Credit Licence Number 240573 trading as Horizon Bank.
View Blog By Category
Tags